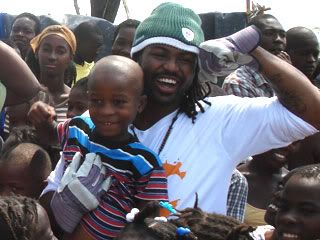 TOJ:
Even though many of the players on the team are actively involved in charity work, you seem to have gone above and beyond in the past year and have become a leader in that area on the team. Can you explain the initial motivation to travel to Haiti and now go to Ghana in early July?
Clowney: Haiti was a great trip. The motivation itself was just to go and help. James Ihedigbo brought it to my attention that he and his mother had decided to go to the Haitian country to help the earthquake victims and asked if me and my foundation would like to take part. Without hesitation I told him yes. From that day forth we got everything together to make this trip to Haiti.
As far as the Ghana trip, I have always wanted to go to Africa since I was a kid. Now that I have the ability to help I wanted to go over to Ghana and show the kids over there a little something different. Such as American football. But while I'm over there I will be taking clothes for the families, visiting children's hospitals, orphanages, etc.